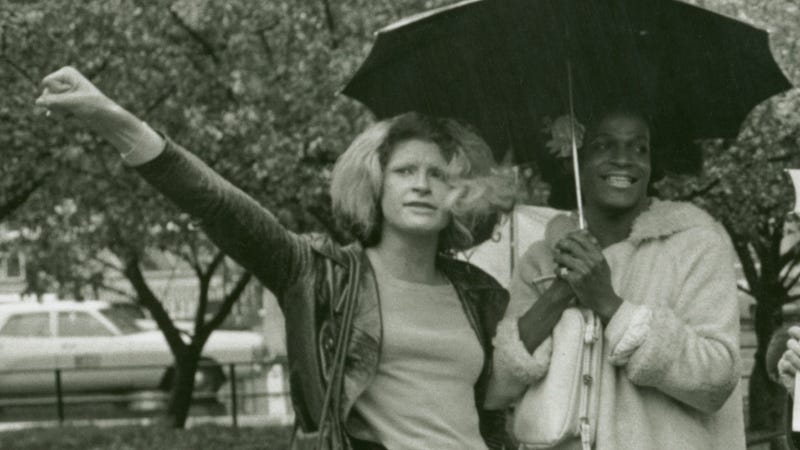 Gay Pride is celebrated around the world largely as a civil rights event for people whose sexuality is oriented towards people of the same gender. What is often forgotten, perhaps even intentionally erased, is that transgender individuals are largely responsible for starting the rebellion that inspired the Gay Pride movement.
In 1959 a group of transgender women and gay men fought off cops at Cooper's Donuts in Los Angeles, an incident all but forgotten. Three years before Stonewall, transgender women in San Francisco stood up for themselves in a moment of resistance at Compton's Cafeteria. Of course the best known story is Stonewall, where by many accounts trans women were the fiercest fighters.
And yet many leaders of the gay rights movement wanted to force trans people out. In a heartbreaking scene from the 1973 New York Gay Pride rally, Sylvia Rivera was repeatedly denied the right to speak, and when she finally took the stage to proclaim that Stonewall would not have happened without trans activists she was booed off the stage. When I saw this footage recently in The Death and Life of Marsha P. Johnson, I felt a range of emotions, from sadness to rage to shame.
It does seem that we may finally be learning the lessons that Rivera and Johnson were trying to teach us. They are being honored together this year with a statue in New York City.
But we still have a long way to go. The struggle is not over, and as a community we still need to learn how so support each other: Did the 'T' Fall Off of 'L.G.B.T.Q.'?
I can't say it better than Scott James (although I would say more specifically trans people of color): Queer People of Color Led the L.G.B.T.Q. Charge, but Were Denied the Rewards
More Prideful things:
Tales of the City (part deux): The reboot of these stories is not great, but I do enjoy seeing lives that reflect some of my Bay Area life and queer experience. Seeing a couple, one lesbian and the other a trans man in the process of coming out, struggle with the process of his transition, some realistically tense inter-generational conversations about how to appropriately articulate trans identity, and there's even a retelling of the Compton's Cafeteria riot. All of this with San Francisco as a central character, presented as an imperfect utopia for misfits. There are nuggets of sweetness here that for me are worth time spent watching, if for nothing else to see stories of diverse queer folks experiencing joy in life.
Sense8: This show is not new, but it is SO GAY in the very best joyful and empowering ways. The story is layered and complex, and the main characters are geeky sexy super heroes who find light through darkness, and I am rooting for every single one of them! This is just the story that we need right now in these dark times.
Pride on Screen: From Crooked Media, a podcast that discusses queers in pop culture over the years. It's pretty good, for for someone of my vintage (and to my mind 50 is not THAT old), the hosts don't go back far enough! Have these whipper snappers never seen the Celluloid Closet? I was gratified that someone made a reference (albeit quickly) to Billy Crystal's character, Jodie Dallas in the sitcom Soap from the 1970s. But there was so much more in popular culture that they missed in these conversations, it left me a little disappointed.
More queerness:
So many different queer flags! Who knew!?: The Complete Guide to Queer Pride Flags
New York Times coverage of Pride 2019
The LGBT Community Center National History Archive